Observations from DKR-Memorial Stadium: Game 1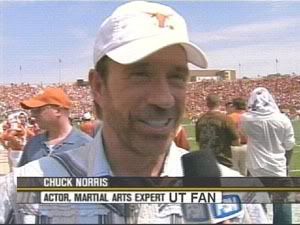 1. The new scoreboard (aka "Godzillitron") is outstanding. They did not have the full screen functionality this game but will have it starting next week. Fear it. Sacrifices must be made. If they can just get rid of the ads...
2. Chuck Norris has embodied everything Texas. He was in every TV timeout commercial and even paced the sidelines during the game. Coincidently, they showed him on Godzillitron flashing a Hook 'em sign and on the next play McCoy connected with Sneed for a TD. I'm just saying is all.
3. The Goal Post Club is disappointing. They have 4 TVs a giant inflatable trampoline for the kiddies and the same overpriced food and drinks you can find in the stadium. On the plus side, the Texas Cheerleaders come to every table and greet the patrons. They rounded out the 3 A's of the experience: Alcohol, air conditioning and assless chaps. But, since our wristbands came free with a parking pass that let me get from the parking garage to I-35 in 3 minutes flat I'm going to let it slide.
4. The new bleachers under Godzillitron where we sat are still under construction. The floor is made of wood and very unstable. On the same note, the seating is so crunched together that you better get to know your neighbors real well. I hear the guy I was sitting next to had to get an icepack for his naughty bits from all the jumping up that was going on. P.S. Get a seatback or be prepared to buy some Icy Hot.
5. Colt McCoy looked good. Snead...not so good. Mack has made the right decision on the QB position. However, McCoy needs to be more careful with his decision making. Not only was he throwing the passes low enough that the receivers had to scoop them, he was throwing in to triple coverage. That isn't going to fly against Ohio State and could very well cost us the game if not corrected.
6. Snow cones should NEVER be placed in a Dixie cup and handed to a 7 year old. The bottoms just cannot handle all the constant straw poking to slurp the last bits of grape syrup. Also, make sure that you do not put foam fingers, footballs and other souvenirs anywhere in the vicinity of your children unless you have a pocketful of napkins, water and are prepared to apologize to/fight the people in the row ahead of you.
7. Texas fans are loyal, passionate and friendly...unless it comes to seating. On bleachers that are not numbered, you cannot expect people to know what row they are on all the time. Our entire section played musical chairs because people were insistent that others were one row back from where they were supposed to be. (Instead of taking up the empty seats on the next row) I'm pretty sure my son was with the band at one point.
8. Farting sunscreen on your fingers in front of other guys provides no shame. That is, if you are man enough to bring sunscreen to begin with. Trust me...bring the sunscreen. For the love all that is Texas, bring it. Burnt Orange > Burnt face. If you do not have $50 to spend on water in the first half, think like a cactus.
9. If you are going to lead the crowd in a "Texas Fight" chant, don't half ass it. At least make an attempt 4-5 times before you hunker down in shame. Also, please stay on rhythm when we are supposed to clap during the fight song. You will confuse the white guys.
10. ou still sucks!
Next up...report from the Ohio State game where I will be going solo.