Check Out The Boomers On This Sooner
You just can't make this stuff up.
Here is an
undoctored
picture of a man in an airport duty free shop. See if you can spot why this would be of any relevance here: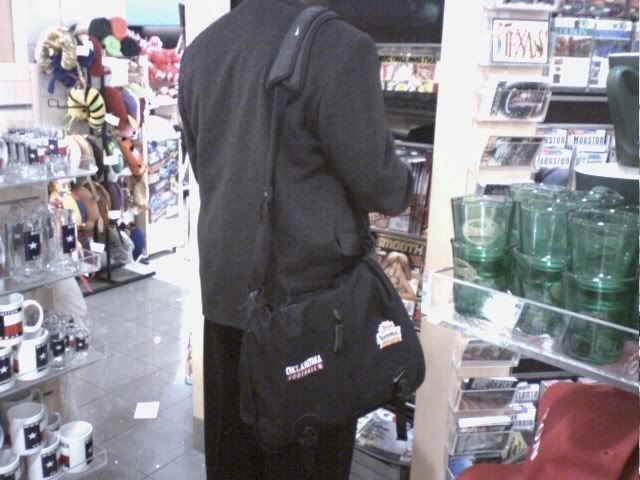 Find them?
Check your answers.
1. The man is light skinned and has elected to dress tight business casual.
2. The man is in a Texas airport that appears to be Houston Hobby. (As evidenced by the Texas-themed items and Houston maps)
3. The man is sporting a black handbag. 2 decals adorn said bag: "Oklahoma Football" and an apparent "Tostitos Fiesta Bowl" logo. This handbag was given to the Oklahoma coaching staff by the Tostitos Fiesta Bowl as an official souvenier courtesy of Nike. This proves that the photo was taken in the last 17 days.
4. The man is apparently thumbing through magazines. Said magazines appear to be of an adult nature. (I.E. Smooth)
5. A certain ou coach visited New Orleans, LA to meet up with soft verbal recruit
Tyler Stradford
earlier this week. All SWA, AA and Continental flights to New Orleans out of Oklahoma City change planes in either Dallas or Houston.
Has someone gone to the Gary Barnett school of recruiting? Or, perhaps he was just searching for a "tight end". (Although it doesn't shock me that he he to travel to TEXAS to find one)